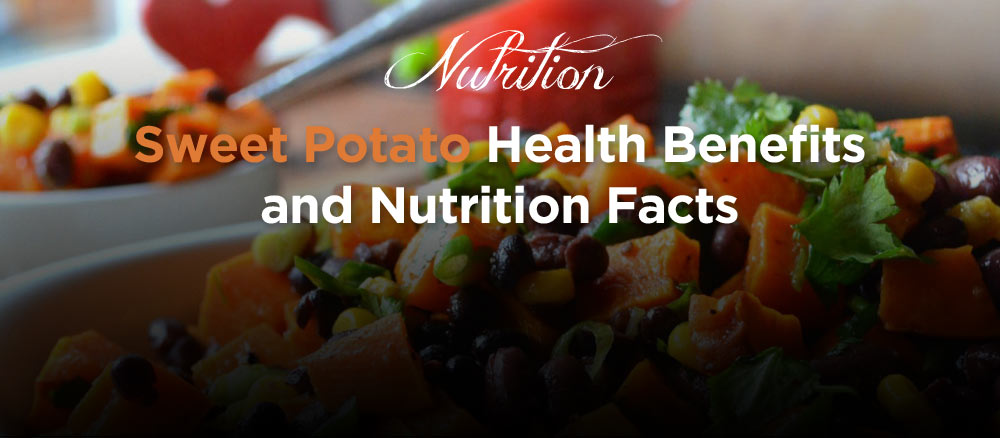 Sweet potatoes are rich in Vitamin A (beta-carotene) and Vitamin C.
Both Vitamins A and C are powerful antioxidants that work in the body to remove free radicals (chemicals that damage cells).
Sweet potatoes are good for stomach ulcers and inflamed conditions of the colon.
Sweet potatoes are beneficial for lowering blood pressure.
Sweet potatoes may be helpful for hemorrhoid sufferers because of their high fiber content.
Sweet potatoes are good for people involved in heavy muscular work, since they are high in vitamins and minerals.
Sweet potatoes may help prevent cancer in glands and organs with epithelial tissue due to their high Vitamin A content.
Sweet potatoes are good for diabetics, because they help stabilize blood sugar levels.
Nutrition Facts
Serving size: one medium.
| | |
| --- | --- |
| Amount per serving | %Daily Value  |
| Calories 103 Calories from Fat 0 | 0% |
| Total Fat 0 g | 0% |
| Saturated Fat 0 g | 0% |
| Cholesterol 0 mg | 0% |
| Sodium 10 mg | 2% |
| Total Carbohydrate 24 g | 5% |
| Dietary Fibre 3 g | 12% |
| Sugars | |
| Protein 2 g | 3% |
| % Daily Value Vitamins & Minerals | |
Vitamin A 218% Thiamine 5% Niacin 3%
Folicin 11% Calcium 4% Iron 5%
Manganese 16% Vitamin C 41%
Riboflavin 8% B6 12% Potassium 17%
| | | | | | | | | |
| --- | --- | --- | --- | --- | --- | --- | --- | --- |
| Veggies 1/2 C cooked  | Score | Vit. A | Vit. B | Folate | Iron | Copper | Calcium | Fiber |
| Sweet Potato, no skin | 582 | X | X | * | | X | | X |
| Carrots | 408 | X | | | | * | | * |
| Spinach | 241 | X | X | X | X | * | X | * |
| Collard Greens | 181 | X | X | X | * | | X | |
| Red Pepper | 166 | X | X | | | | | |
| Kale | 161 | X | X | | | * | * | * |
| Broccoli | 145 | X | X | X | | | | * |
| White Potato | 114 | | X | * | X | | | X |
| Asparagus | 75 | X | X | X | | | | * |
| Green Peas | 64 | X | X | X | * | | | X |
| Corn | 39 | | * | X | | | | X |
| Green Beans | 37 | * | X | * | | | | |
| Tomatoes | 37 | * | X | | | | | |
| Summer Squash | 31 | * | * | * | | | | |
Source: Nutrition Action Health Letter, Dec. 1991, CSPI, Wasington, D.C.
X= contains at least 10% of the USRDA
*= contains between five and nine percent of the USRDA